Introduction
Haz clic aquí para leer este artículo en Español
Asus Eee 701.
Since Asus revealed this tiny computer this year at Computex Taipei in June, much has been the expectation created around this device because of two main factors: its price and its announced early availability. With months going on, some of that expectation has been dispersed because both of those factors have not been as spectacular as they were promised to be or as it was initially broadcasted.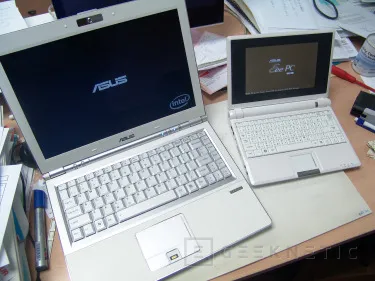 Anyway the Eee 701 is a computer that will mark a turning point, at least, in ultra mobile PCs' sector. It is not much different in features from the actual expensive UMPCs and so it is much cheaper and in my opinion wiser in its design because it is just a tiny laptop PC, what makes it more natural cause it has its own keyboard and a screen that bends on it as any other laptop.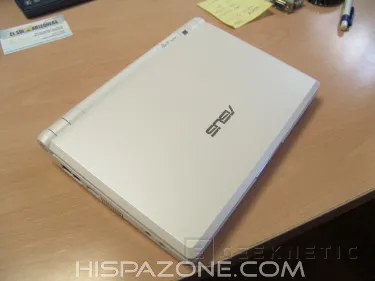 It is also the first commercial competence for the OLPC project and a strong competitor cause it almost equals the OLPC in prices and it offers, through my point of view, a more interesting solution and more global because it brings mobile computing to everybody and not only to some projects that reach only a small amount of the population. Furthermore when a product opens a new market more companies will try to compete with it so the customers will always be who get benefit from that.Otherwise, it is the first domestic commercial product that offers Linux not as an option, as its main OS with the option of installing a Windows. It's the other side of the coin what we are used to see. Until now an ultra portable computer for the general public was an expensive computer with Windows platform and opposite to its philosophy because the prices keep them away from masses.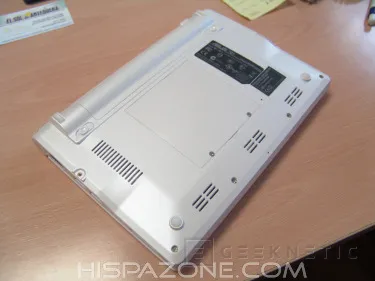 During our own experience with the Eee 701 we have seen that it is a very light computer, with simple ends, very easy, fast taking into account its possibilities, especially because of its flash hard drive or SSD, and a laptop that will make Linux get inside many users' life that before could even be afraid of it. With this computer is to switch on its operating system and in few seconds we have access to the main use any user can give for education or office purposes, I'll detail the integrated functions, what makes it amazingly attractive to everybody but at the same time, and I don't think I'm wrong with this, we are in front of a device that will generate a scene as few times have seen before. I can imagine this tiny device being used for wardriving, to host servers of all types, to the most specific applications we can imagine, … a no end of applications that will make this Asus model delight from most inexperienced to most advanced users in a Linux content and its infinite possibilities.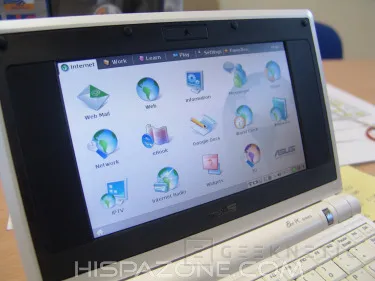 Features
Its equipation is excellent, we are talking about a computer that will cost about 200-400 Euros with a very reduced volume and a weight lower than 1Kg and that will come by default, and I only talk about we know for sure, with a 7 inch 800x480 pixels screen, modem, Ethernet 10/100, Wi-Fi 802.11G, the last two chips are Atheros, Microphone, Webcam (in 4 or 8 GB models), SSD hard drive from 1GB up to the most expensive model with 8GB, through a 2G and a 4GB as the medium models, 3 USB 3.0 ports, speakers, miniPCI Express socket and memory from 256MB to 1GB depending the model. The processor is what we can't confirm yet, at least we still don't have official information but it is supposed to be a Celeron 900 with an Intel chipset. We can confirm that it will be an Intel processor, but to be a Celeron is still a not answered question, we'll see what the final product offers.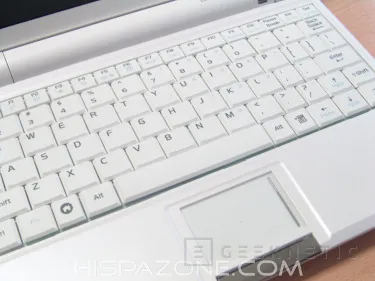 Keyboards details from Eee 701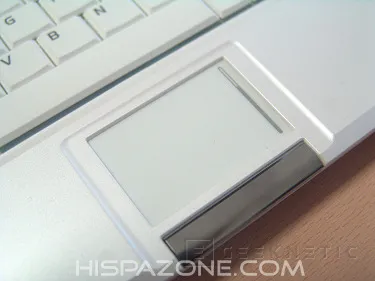 The touchpad is small but has even vertical scroll.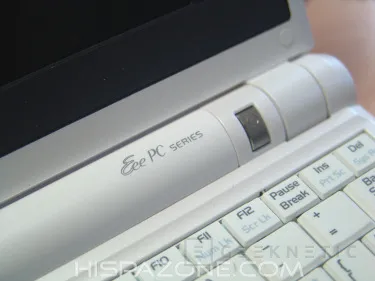 The power button is on the hinge of the screen
Reasons to buy an Eee PC
It may seem that this machine is away from other product that are now normal or domestic where the double core processors and PCs with 2GB of RAM or more can be found at any office desk or home but this I think it gives more value to this device because it turns us to the reality of our daily needs. What do you and I do every day with our usual PC? Well, normally surf the web, listen to the radio, some MP3s, watch videos, news, write emails, some word documents, etc. Of course we do more specific things too and that need more power, but the "common" quoted activities, we do them daily for sure and in an over dimensioned PC. If they offer us something cheap, easy to use, easy to switch on in few seconds, and this all at any place, for me is a dream that was until now only for the few people that could pay 1000 Euros for a UMPC.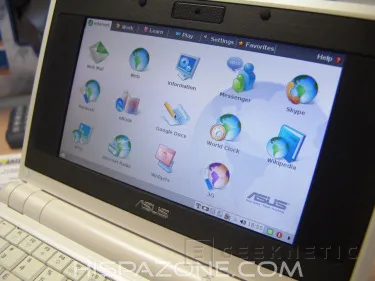 But the Eee is not only a balanced device for its main functions, that is to be a computer for work, for education, to be always organized, with comfort against the ones we hate the PDAs, … it is a device that also can teach a lesson to many desktop computers, especially because of its solid state disks that I have seen booting Windows XP or Linux in less than 20 seconds, or how it opens and closes a web browser in a flash or how it reduces the sound of the device to the minimum expression and allows a range of 3 hours with a quite normal battery. Yes, its drives are small, but its potential is high. If we need more storage we can use SD memories, as it has an SD reader, the use of USB is not a bad option regarding capacity and price, the limitations of this device are relative and its potential very high if we can bring it to our own ground.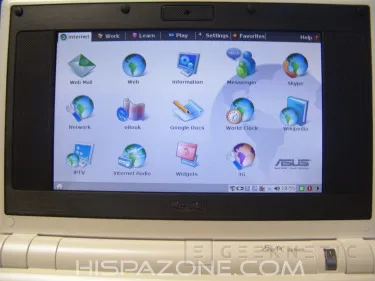 But what I like most is its operating system. It is with no doubt the best, not because it is a Linux, I personally don't have any problem with any operating system, I like them all in general, but this Linux will make much for the users because it is powerful and conventional and absolutely easy to use, actually it is much easier to use than a PDA, because all the main functionalities are at arm's length range and it doesn't restrict the most advanced users. In fact I think it would be an aberration to see in this PC a Windows XP, what is also possible, but would waste what is for me the soul of this device, an operating system made-to-measure over the commercial distribution Xandros. To lose all its functionality for me would not have any sense.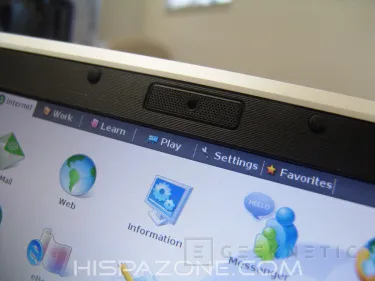 Detailed Pictures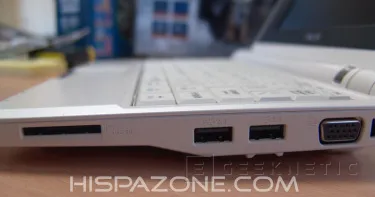 Right side. Two USB ports, a card reader and VGA output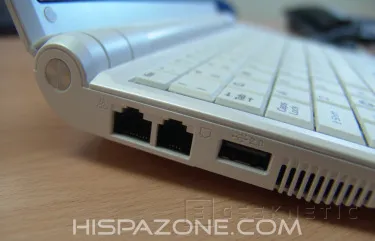 Left side. Ethernet, modem and another USB 2.0 port.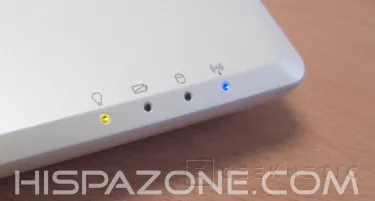 Activity leds from Eee 701
The end of the Eee PC
Many of you may ask yourselves how is its appearance, which quality sensation gives the device being that cheap. Well, taking into account the two models I've been able to test during some days I can say that the models while getting closer to the commercial production are becoming better. The color, the whole plastic chassis has been improved much. It is a device that being that tiny is strong and reliable, time will confirm my thoughts, and I see it like a machine that will endure without problem to lots of hustle. Another of its qualities is that it has no mechanic parts, apart from a small cooler that hardly turns on, so should be more reliable than any other device with hard disks or mechanic optic drives.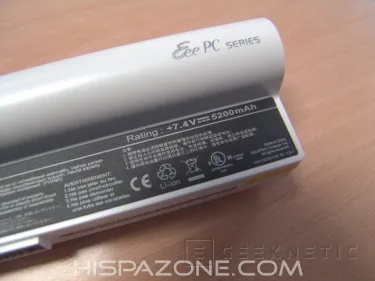 There will be two models of battery. This is the most capacity one with 5200mAh.
If I stop to think what I miss in this new PC, this tiny revolution of Asus, two main things come to my mind. In one side would be amazing if it had a tactile screen, would be an important positive step for its functionality and usability and in the other side I miss the integrated Bluetooth technology, what we will need to add by USB, what would open a range of mobile network connection possibilities and other kind of functions like work as a GPS, what we'll be able to do but with Bluetooth USB adaptors or similar.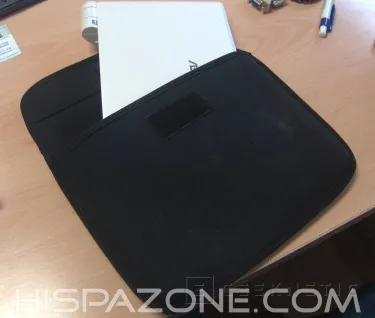 The device includes a second skin type carrying cover.
We are not going to give details about the problems we have had during our tests, that will be for sure solved for final version, as we are still working with Betas but I will talk about its performance in general that is good, very fast and stable, with no grave problems, just a couple of small things we certainly know Asus is aware of. Easy to use, very safe, versatile, powerful, fast and attractive, that is this device of Asus in all senses and we augur it excellent reviews and sales results. The pity is that in Spain we will need to continue waiting more time for it because Asus wants to offer a personalized solution, talking about language, to the whole operating system for each region so the translation to Spanish or other regional languages will need more time. We can affirm they won't distribute it in Spain until this has been solved but if it is sold in any country nearby it won't be difficult to get one in another language but it will initially be sold in English and some Asian language, as it couldn't be in other way having Asus its headquarters at Taiwan.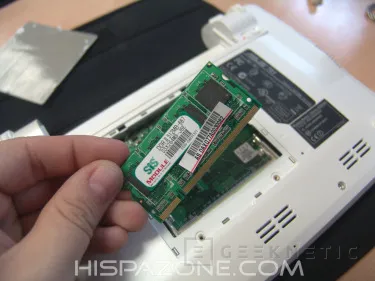 We can expand the memory easily. It uses DDR2 DIMM modules.
Conclusion and Videos
The Eee 701 will have, as said before in this article, different versions what becomes in different features and therefore different prices. In the next table you'll find the differences between the 4 versions of Eee PC.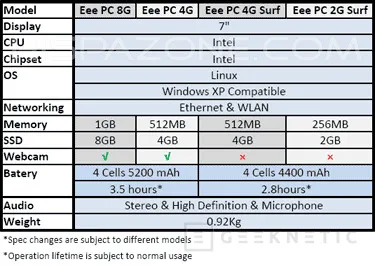 We also know that Eee 701 will be followed by the launch of some accessories for the device. Highest capacity batteries, HDSPA modems, etc. Some examples in this picture: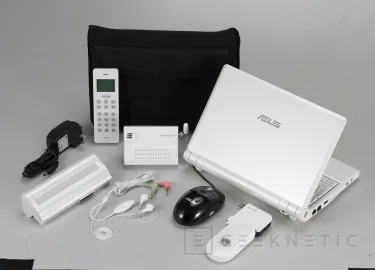 We have left the best to the end, the two videos uploaded to YouTube, by ourselves of course, about this device. The first one about one of the first prototypes and the second one with its own operating system. If you are interested in this device better if you hurry up, seems Asus has already sold more than one million of this device in countries under development and In Taiwan, place where is sold in this moment, they are selling one each 2 seconds. Here you've got the videos.
Fin del Artículo. ¡Cuéntanos algo en los Comentarios o ven a nuestro Foro!