Asus Eee Top. Concept and features
Asus Eee Top. Concept and features.This new domestic computer from Asus is the direct translation of the EeePc to the desktop format. A low cost but innovative format computer and with enough power to make the most different office tasks and general entertainment. It is also a machine with all integrated and with an excellent multimedia features that makes it the ideal computer for the whole family.In this Eee Top we will find quite an adequate hardware for its aim and also a great effort from Asus for offering a complete and global solution with much elaborated software support thinking specially to be enjoyed with the tactile features of its screen.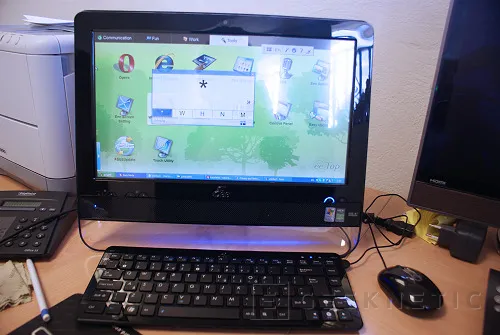 The specifications of the Eee Top are basic in numbers but complex in its features. It uses the same configuration that an Eee 901 or a 1000H can use with the difference that it's all integrated in the case of a 15.6". Its Atom N270 processor running at 1.6GHz is using a 945GSE chipset and an ICH7 south bridge. It's the same platform of all modern Netbook, except one of the models of the Eee Top, the ET1603, whose system will be supported by a Radeon 3450 dedicated graphic card that will notably increase the 2D and 3D performance of the device.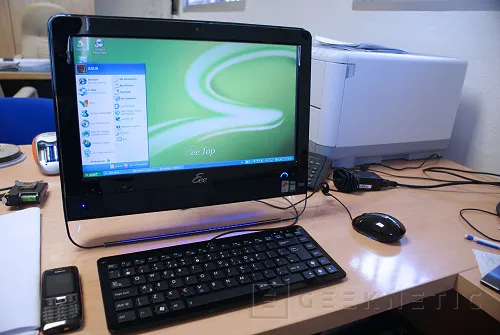 Both models, ET1602 and ET1603, use the same configuration for everything else. Both use the same processor, 1GB of DDR2 memory, a 160GB Hard drive running at 5400 rpm and some extra really interesting features that we will detail in the next page. If there is something that stands out is that all elements of this computer are for notebooks, including processor, memory and hard disk. As you may have realized, we have not talked about any optical unit, because this computer doesn't use any but we can always use a USB optical drive.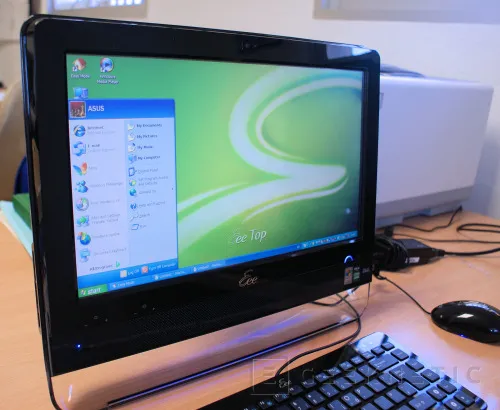 It's a very compact computer with its size adjusted to a 15.6" screen but with an excellent noise control. It hardly exceeds 26dB in full load and that's more or less the noise a normal notebook hard disk makes alone by itself.
Connectivity and Multimedia Features
Connectivity and Multimedia Features.The Eee top doesn't use a high performance processor, and we won't be able to play Crysis on it, and not anything similar either but it makes possible realize the 90% of the domestic tasks we make daily and it can also be useful for making the 90% of office tasks of many work posts that only need a computer with basic functions.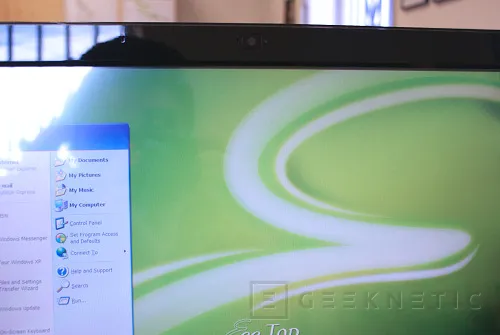 We won't have powerful performance but we will have versatility. In what a monitor occupies we will have a PC with a 1.3mp webcam, omnidirectional microphone system, N type Wi-Fi connection (it will be interesting for the naughtiest ones to know that it's a Ralink the chip integrated), 1 Gigabit Ethernet, 4W speakers with SRS system and nice group of connections that include 6 2.0 USB ports, 2 of them in one side next to a card reader, and the other for in the back side. We will also find audio outputs for a 5.1 system and an interesting group of buttons on the screen that will late us switch off the screen, turn the bright up and down, adjust the volume, and of course switch on and off the de computer.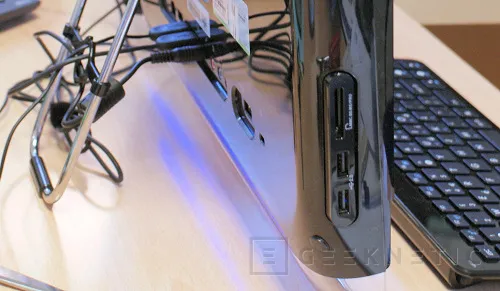 We've got connectivity, we've got quality multimedia features, a completely integrated system and a way of using it completely unknown until now in this range of prices for domestic systems. A way of understanding the use of the computer that you won't be able to do without it.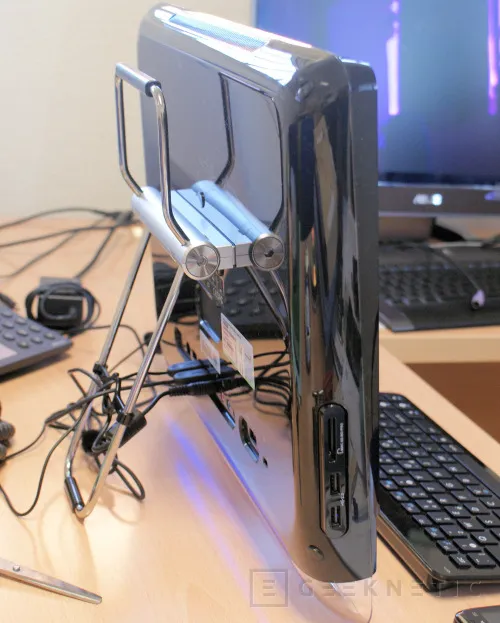 Screen and control
Screen and control.If the format of this computer already makes it uncommon and spectacular, the fact that the screen is a direct tactile interface, it makes an exclusive machine, especially in this range of prices. It's not needed to say that a tactile screen opens a new world of possibilities to control a domestic computer. We won't only have the keyboard and mouse, which in fact are included with it, we will also be able to use our hands to use different applications, surf the web, play content, and it's a natural way of interacting with the computer that will help the integration of oldest and youngest to computer world.
What it's true is that it's 15.6" screen, glare type, with a HD Ready 1366x768 points resolution, it has an excellent tactile capacity which allows a fast use and with almost any kind of adaptation, the answer is fast and well calibrated for all its resolution, we can control Windows completely with our hands but what is true is that with Windows Vista the tablet experience is more complete and satisfactory. We will need to be content with Windows XP, at least if we keep the default operating system, which in both models is Windows XP. Anyway I wouldn't use Windows Vista in this machine unless we install, possibly losing the warranty, 2 GB of RAM memory.All in all we've got a screen with an excellent resolution for being 15.6", able to play high definition video (specially in the case of the model with the ATI chip) and with a control method that shows the great effort Asus has made for giving to this machine a complete tactile experience thanks to the applications coming with it.
Software, applications and use
Software, applications and use.Windows XP is the base of the Eee Pc, there won't be for now any version with Linux and not either with SplashTop but Asus doesn't discard them for the near future. Anyway Asus has brought the interface of its EeePc Linux for giving to the user a complete tactile experience. Windows XP is not the best operating system for a tablet computer but with the installed applications it becomes a more than a satisfactory experience.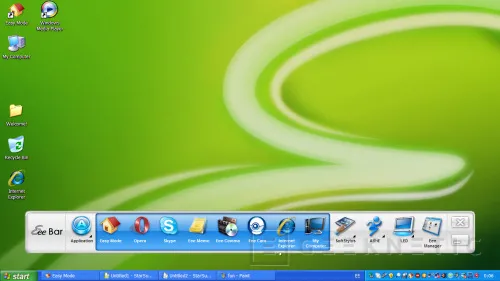 We have a "home" application that will help us access to the work, multimedia and entertainment functions in a direct and fast way. The device comes with the office suite StarSuite 8 and the Opera browser apart from some programs made by Asus like Eee Cinema, which allows us to enjoy the multimedia contests like audio, video and pictures in an intuitive way with the help of our hands.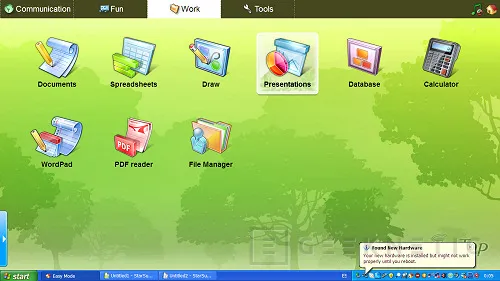 The Eee Top is a concept of computer focused in a familiar use and everything has been made in that way. Asus has taken advantage of the near design of the menu of the Eee Pc to integrate it into this version with Windows XP and bring open and free applications to Windows XP environment.We can control de tactile screen with the hands or also with the "stylus" that comes integrated with the keyboard. This tactile pen is almost the size of a normal felt-tip pen and will amaze the enthusiasts of the photographic edition when joining, not as with a more professional system like in other tables, the direct edition at the screen.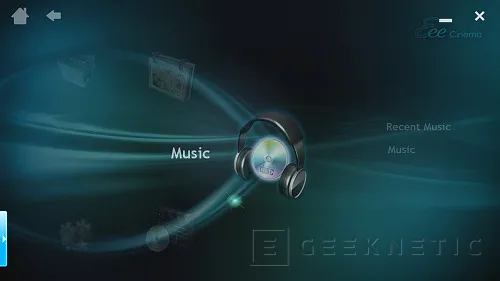 With the Eee Top we will find a keyboard, without numeric keys, of compact size and key design "Sony" type in which we will be able to keep the pen and also connect the mouse or any other USB device at the port integrated in its right side. This way, with one port we cover both keyboard and mouse. The mouse is also included in the price and it also keeps the design of the device as its lighting in electric blue of all the LEDs of the Eee Top.

Design
Design. The Eee Top is an economic computer but that didn't make them careless of its looks. It's not made of aluminum like the iMac, doesn't have either a glass screen, not either the size of the AIO computer from HP or Dell but they did take much care of its design and it's really attractive. We can find it in 2 versions, white and black, but with all its peripherals matching it. The black version is the one we are able to test and it's really special with a really neat plastic black case with excellent bright and a wonderful texture.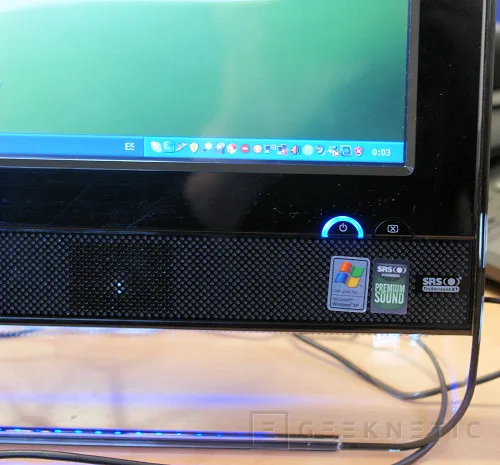 It's blue LEDs, whose lowest intensity can be adjusted, and its half circle buttons integrated with the body of the machine make it a clean and neat look. Its connectors are also perfectly distributed, with an integrated cable collector in its holder, and some hidden at the left side. We only miss an optical slot-in unit in its right side.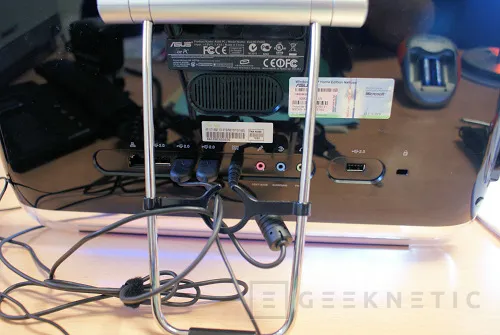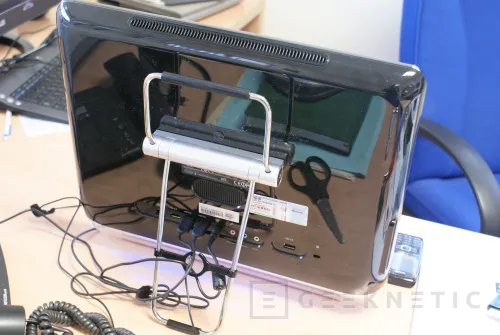 The whole case is like a mirror.
More detailed images of the ASUS Eee Top
More detailed images of the ASUS Eee Top.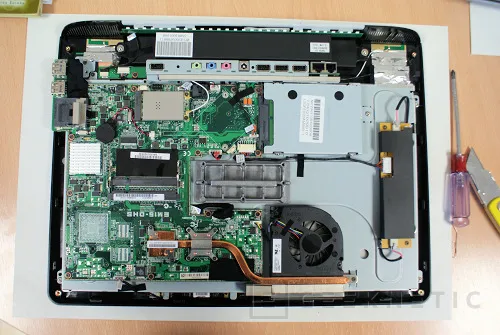 To open an Eee Top is like a kids game.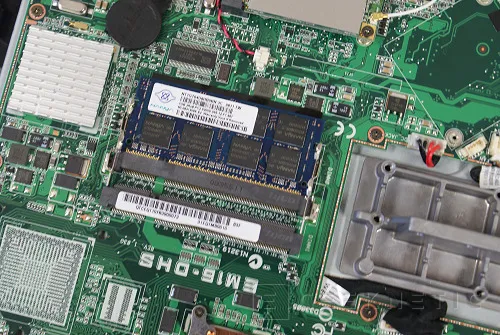 Double memory slot for increading memory up to 2GB.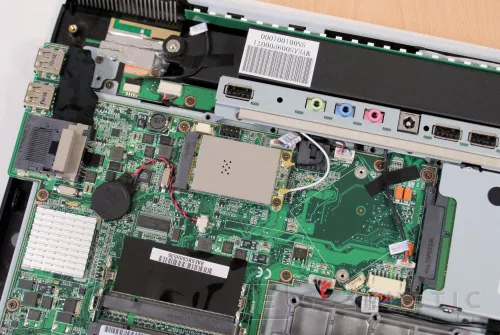 We can see the free space for the graphic chip the ET1603 model uses.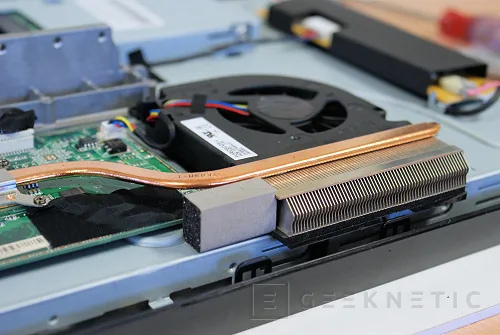 This is the only fan of the device.
Conclusion
Conclusion.A small and quiet computer with an overwhelming potential. This is the sensation the Eee Top is leaving us after our experience with it. A computer which only lacks of an optic unit for being perfect. A Computer which with all family will be able to enjoy a more natural way of using the computer and a machine that will help us save power cause it only consumes a total of 65W. A computer that marks with own personality a new series inside the Eee brand of Asus and if its recommended price is kept it will become a great phenomenon as it happened with the first Eee notebook of the brand.We must point out the great end of the machine, the quality of the peripherals coming with it and the well done software that comes with it. A really interesting device that Asus should have maybe given more expansion freedom like accessible slots for changing hard drives and for adding RAM memory. Let's hope this becomes possible in next versions because then they would reach even more kind of users like many enthusiasts who look for a multimedia computer, easy for working, surfing the way and downloading P2P content.Even with the snags we can get from the Eee Top, it will become a referent in tactile control for the domestic computers and will probably be a before and an after in what we know as domestic computer because this kind of interface "naturalize" the use of the computer making it more integrating and easy for the whole family. Its recommended price will be 549 Euros (VAT included) and it will be sold in short time. We hope it becomes cheaper in some months, because even it already has a very interesting price, it's a pity it can't reach a lower price market to compete with cheapest desktop computers.
Fin del Artículo. ¡Cuéntanos algo en los Comentarios!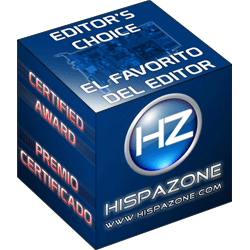 Producto: Asus Eee Top ET1602
Fecha: 08/11/2008 0:27:58